---
SHIJIAN sword
Posted by 刘卫 on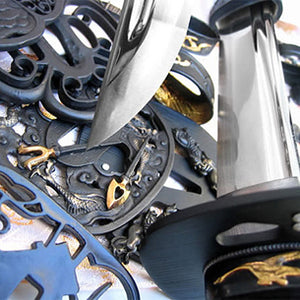 Like all swords, though, the katana requires some basic care and maintenance to preserve its original qualities. But you'll want to avoid making the five following mistakes when maintaining your katana.   1. Storing with edge facing down The golden rule of storing a traditional Japanese katana is to place it with the cutting edge facing up. This is the way in which samurai warriors carried the katana, and it's the recommended method for storage as well. Storing your katana with the cutting edge facing down in its scabbard increases the risk of damage to the blade.   2. Not oiling the...
---
Posted by 刘卫 on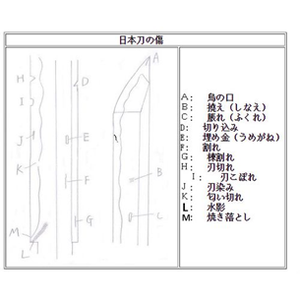 Japanese Katana is made with complex "folded forging" craft. It may be hit by combat, and has experienced hundreds of years of history, so it may have a variety of flaws. As long as the practicality and beauty are not compromised, minor flaws will not affect the value of the sword. In fact, there are many so-called flaws, which are even important features of certain faction of katana sword.       The defects of katana can be divided into the following situation: A: Karasunokuchi "Hagire" (see H) appears in "Kissaki", which looks like a crow's mouth.   B: Shinae Wrinkles...
---
Posted by 刘卫 on
  How to choose a DCSWORD, you may know easy to swing, the length and weight of the blade should be suitable. However, it should be noted that there are differences between men, women, children and body types, which will have different effects on the above points. The angle of arm extension for beginners and masters is not the same, so choosing the right tool is very important. 1. Length and weight: Regarding the length, it is generally considered that as long as the action of drawing and closing the katana is natural. The right wrist should be straightened at the maximum...