---
1095# high carbon steel material, hand made. Traditional clay tempered, Rockwell (hardness):60/40,Real distinct hamon. Best quality rayskin tsuka (handle). High quality rayskin Tsuka.High qulity silk wrap sageo. Brass Fuchi/kashira, all brass Habaki. horn koiguchi/kurigata/kojiri. We believe: it will rebuild your conception of swords and katana.
---
Overall Length: 103cm/40.6in   Handle(tsuka) : 26cm/10.24in    
Blade Length: 70cm/27.6in
Blade Width: 3.2cm/1.26in   Blade Thickness: 0.7cm/0.28in
Blade Material: 1095 Carbon Steel
Forging Craft:  Made by traditional forging craft. Clay Tempered
Blade Edge Hardness:  60(HRC)【58-60】
Polishing Craft:  Hand polished, hand sharpened. 【Sharpness: ★★★★★     Mirror Effect:  ★★★★★】

Fittings:  Alloy

Ito:  Synthetic Silk       Sageo:  Synthetic Silk Sageo

Saya:  Lacquered Wooden Scabbard
Gift: Sword Bag,Certificate

---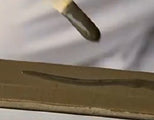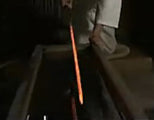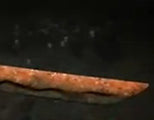 The clay temper procedure is really complicated,although what we show you is only four steps.The blade will be set apart as 2,one is the back of the blade and the other is the cut edge side.the back side will be stick with the clay and the other side will be covered by the powder and other mixture which is protected as a secret recipe.coz the different thickness of the back of the blade and the cut edge side,and the different of the clay mud and the mixture,when the blade cooling to be a same low temperature at the same time after the heating by high temperature,that is why the blade has a radian,and there is a clay temper wave line.

Notice:

1.There are many existing measurement methods. Different measurement methods lead to very different results. To ensure the accuracy,please use the standard Japanese measurement method.

2.Each photo is taken in kind, absolutely true without any treatment. However, each monitor has a color difference, so please browse carefully to avoid disputes;

3.Manual products, slightly different, please in kind prevail .